Modesty. A Matter of the Heart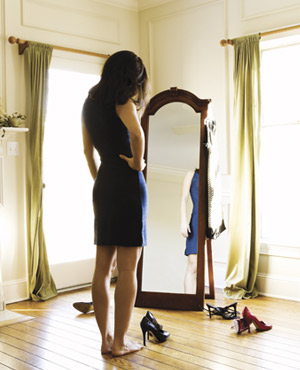 With the season of skin upon us, I felt like it was a good time to address the topic of modesty. Sure, I could give you a list of dos and don'ts when it comes to dressing but honestly…you ladies know what you should and shouldn't wear and anyway, I really don't think that's what it's all about. It's not so much about the length of your shorts or the flashiness of your jewelry; it's the inner person that needs to be addressed.
When we think about clothes and modesty, we can get so concerned with what we can see but really it's what we can't see that needs to be addressed. The issues a girl is struggling with in her heart are manifested in what she wears. You may see a barely there top and super short shorts but what you can't see is what is going on in her heart- her desperate need to be desired and loved. You may see a girl decked out to the nines with flashy jewelry, the latest designer bag and all the right labels but what you can't see is the longing in her heart to be liked and accepted by others. Have you heard the scripture, "…out of the overflow of the heart, the mouth speaks"? I believe it is also fitting to add that out of the overflow of the heart, a girl gets dressed. This verse from 1 Peter 3:3 backs up this thinking, "Do not let your adorning be external—the braiding of hair and the putting on of gold jewelry, or the clothing you wear—but let your adorning be the hidden person of the heart with the imperishable beauty of a gentle and quiet spirit, which in God's sight is very precious." You see, a girl whose focus is on having a beautiful heart it will naturally affect the way she gets dressed. She will spend more time adorning the inner person than the outer person. Truly, modesty is more a matter of the heart than a matter of the wardrobe.
Here are my two questions for you: 1)What are the motivations of your heart when you get dressed? 2)Are you seeking to get something from others you're not getting from the Lord? If we could examine our own hearts, we would spend less time judging our sisters and more time praying for them. We would also dress modestly ourselves out of a natural overflow of a heart satisfied with Christ.
As you shop and dress in this modestly difficult season of skin, do a heart check when you do your mirror check.
For His glory,
You can follow any responses to this entry through the RSS 2.0 feed. Both comments and pings are currently closed.
One Response to "Modesty. A Matter of the Heart"
Blogs Kate follows
Recent Posts
Subscribe to Blog via Email
Search: