What senior girls are saying…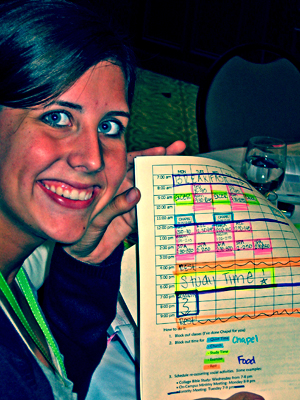 "I loved how The Freshman Fifteen Retreat presented its information; doing the packets and activities really kept me paying attention and having fun.  Also, I love how girl centered it was-the information was really targeted to help me."  Megan W.
"The Freshman 15 is a great study that I feel really prepared me for what all I have a head of me in college. God really grabbed hold of my heart and as nervous as I am to go off to a school where I don't know anyone, I am really excited to see all the many blessings God has laid out for me and how my story is gonna end!"  Rachel W.
"Entering college can be a scary new chapter of life. The Freshman Fifteen Retreat really helped me surrender all of my fears and anxieties over to the Lord. The Fifteen "Must-Packs" for college aren't only things I need to pack for college, but for life. From learning to seek God first above everything else, to building the right kind of relationships and to finding my identity solely in Christ, the Freshman Fifteen reiterated to me that a life without Christ in the center of every aspect, every decision and every relationship is no life at all."  Rachel S.
"I loved the information in the Freshman Fifteen Retreat because it was real life stuff that I am already beginning to worry about for college. But after the retreat I feel more relaxed and a whole lot more prepared for what lies ahead. The activities included in the retreat kept me focused and entertained. I loved it!" Hailey H.
"The Bible says that we have to leave the elementary teachings in our faith and encourages us to look deeper into God's word. That's exactly what we did at this conference; we dove into the Word and devoured the meaning. Jesus loves you is a good message but the Freshman Fifteen showed me ways where I can be affected by Him and be effective for His kingdom in my everyday life." Haley L.
What girls ministers are saying…
"I feel so blessed that my senior girls were able to participate in The Freshman 15 Retreat.  As a Girls Minister in the local church I feel a huge burden to reach all age-groups of girls.  Senior girls can really use extra encouragement and training as they leave our Student Ministries and enter college.  This retreat outlines key principles that are central to godly young women.  My girls were challenged, stretched and encouraged.  They walked away from high school and our church excited at what God had in store for their future and feeling fully prepared to handle their college roommates, calendars, checkbooks, and themselves!  This is a must-have for any girls ministry wanting to provide something special for their Senior girls."  Rebecca Bradford; Director of Girls Ministry, Lake Pointe Church
"The Freshman 15 Retreat was the best preparation for college that our girls could have received! The girls enjoyed every minute of Kate's teaching and she had such a special connection with them. Kate has a very special gift and there is such a warmth and joy that shines out of her as she shares these things the Lord has laid on her heart with girls.
I have mentored several of the seniors that attended since 6th grade and I feel so confident sending them out into the world after seeing the knowledge and resources they received this weekend. The truths of the Freshman 15 will stay with them throughout college and beyond! I highly recommend this weekend for every senior girl!"  Jenny Worsham; Girls Ministry Volunteer, Lake Pointe Church