Hot Springs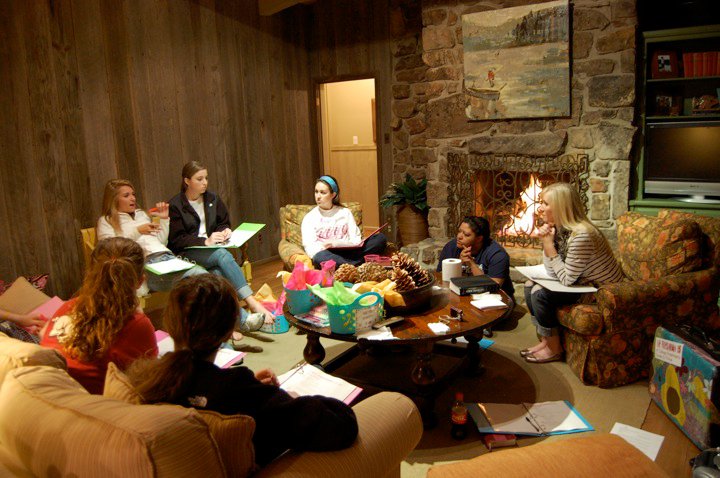 Friday evening my taxi service (aka my sweet husband and little boy) dropped me off at a gorgeous lake house on Lake Hamilton in Hot Springs, AR.  The lake house was beautiful but the girls waiting inside are what truly took my breath away.  They were all so beautiful, sweet and so kind to me.  They warmly welcomed me as one of their own & were eager to hear the message God had given me.
We had fun Friday night getting to know each other, laughing a lot, snacking a ton and turning to God"s Word for guidance on how to serve Him well in college.  Saturday morning started off right when sweet Kerensa, an adult leader, cooked us french toast that would put IHOP & Cracker Barrel to shame!  With full bellies, we gathered to talk about the college dating scene and then practiced what it would look like through a fun but frenzied scavenger hunt.  Afterward, the girls put their artistic abilities to the test by illustraing an ideal body type from differing time periods so that we were prepped to talk about our bodies, God"s temple.
Then, we loaded up the church van and headed into Hot Springs for a little hike that was short but oh-so-strenuous!  From the top of the hill we had a great view of Hot Springs and were able to enjoy it once our hearts stopped pounding out of our chest and our ears stopped ringing from the wind and sudden change in altitude!  We had fun hanging out in Hot Springs touring the bath houses, putting our hands in the hot springs and nabbing some free water from The Arlington Hotel.
After wrapping up our final session back at the lake house, we got all gussied up for a big dinner out.  The food at Belle Arti was fabulous and so was our sweet waiter who we gushed over after learning he was getting married the next day!  At dinner their fabulous girls minister, Melissa, gave them each a copy of the Bible study and a framed copy of The Freshman 15 to hang in their college dorms.  They absolutely loved them and it made my heart fill with such joy to see them perusing the pages of the Bible study as we sat at the table.
It was tough for me to say goodbye after dinner but I know that the Lord is going to use these ladies mightily on their college campuses and in the end…it"s not really goodbye because I will be facebook stalking them and checking in on them!
Thank you to all of you who prayed for this weekend and who supported me as I prepared.  The Lord heard you and responded!  Here is a little of what they had to say about the retreat (taken from a thank you card that I will forever treasure):
"I can"t tell you how much fun I had this weekend!  These sessions were just what I needed; before now I felt so scared, but now I know if I focus on the Lord, everything else will fall into place."
"This weekend has been so amazing, informative, fun and just beautiful getting to know you and learning from you!  You have inspired me for the next step in my life & what a woman who follows the Lord looks like in college!  I love the call God has on your life, you"ve taught me so much in the past 24 hours!"
Giving glory to God,
You can follow any responses to this entry through the RSS 2.0 feed. Both comments and pings are currently closed.
2 Responses to "Hot Springs"
Blogs Kate follows
Recent Posts
Subscribe to Blog via Email
Search: