Act II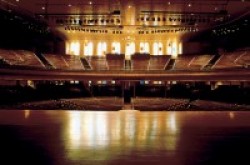 The lights are blinking in the theater and, after one last stretch, people are returning to their seats.  Intermission is over and it's time to start the second act!  I truly hope you enjoyed your intermission, otherwise known as Christmas break, and that you stocked up on refreshments…both the ones you nabbed from your parents pantry to take back to school and the naps, extra sleep and quiet you don't get at school.
Act I is complete.  No matter how great or how lousy it was; you can't go back.  Don't beat yourself up about how it all went down your first semester.  Some things probably went really well and, as always, there are areas that need improvement.  Although we can learn from first semester triumphs and tragedies, our gaze should not be on the rear view mirror.  Instead, "…Forgetting what is behind and straining toward what is ahead, I press on toward the goal to win the prize for which God has called me heavenward in Christ Jesus" Philippians 3:13b-14.
Before the lights dim and the action gets into full swing, get on your knees and commit this second act to the Lord.  For some of you, it may be scary to truly surrender this semester to the Lord because you are fearful about what He may be calling you to or possibly away from.  Remember to trust Him.  His plans and His desires for you are for your best and for His glory.  He never gives an end without providing the means; "And my God will meet all your needs according to his glorious riches in Christ Jesus" Philippians 4:19.
Commit today to giving your best in the second act.  Trust Him as your Ultimate Director.
I'm excited to see the ways the Lord uses your surrendered lives this semester for His glory!  Keep in touch and let me know how I can be praying for you or if you ever just need to chat.  I consider my relationships with you ladies a great privilege and look forward to hearing from you.
All my love…Kate
You can follow any responses to this entry through the RSS 2.0 feed. Both comments and pings are currently closed.
One Response to "Act II"
Blogs Kate follows
Recent Posts
Subscribe to Blog via Email
Search: