Ring by Spring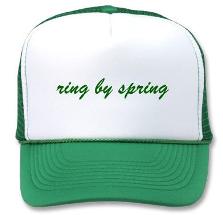 I first heard this phrase when seated across from a sweet freshman girl attending Mary Hardin-Baylor. A new one to me, I asked her to explain. She said it meant that the goal of girls at UMHB was to have an engagement ring on their finger by spring of their freshman year.
Dumbfounded, I asked her to recant her statement. Surely she meant senior year. No. She meant freshman. The pain this simple phrase had caused was written all over her face as she explained how it had messed with her mind and heart; then sadly, how she had to deal with the Lord when spring came and there was no ring. She told me about how her mind had become singularly focused on finding "the one". She looked for "him" everywhere and every time she met a new guy, wondered if their meeting was by God's divine appointment and if he was her future husband.
My heart ached because I also wrestled with this during my college years. We referred to it as getting your MRS degree and hoped to "walk off the graduation stage and down the wedding aisle".
There are so many pitfalls with this mindset. Most importantly, in looking for "the one" you miss out on getting to know "The Only One". You, as an unmarried woman, have such an opportunity to get to know, fall in love with and serve Christ. 1 Corinthians 7:34b-35 explains, "An unmarried woman…is concerned about the Lord's affairs: Her aim is to be devoted to the Lord in both body and spirit…I am saying this for your own good, not to restrict you, but that you may live in a right way in undivided devotion to the Lord."
Be aware of this "ring by spring" nonsense and don't let it take root in your heart and mind. I challenge you to throw off the desire to search for Mr. Right and follow in love with Christ, the ultimate Mr. Right. Read His Letters to you, talk to Him about how you're doing and feeling and look for opportunities to serve Him.
Dear sister, don't waste this precious time you have; just you and Jesus.
Love,
Kate
A few follow-up questions:
1. Is "ring by spring" popular on your campus or do you call it something else?
2. Have you found this mindset to more prevalent among Christians? Why do you think that is? What's the harm in it?
3. Have you or any of your friends been influenced by this mentality? What have been the affects?
P.S. The trucker hat in the photo is legit. Urbandictionary.com sells "ring by spring" paraphernalia. Not that I'm advertising or suggesting you buy…I just thought it was hilarious!
You can follow any responses to this entry through the RSS 2.0 feed. Both comments and pings are currently closed.
Blogs Kate follows
Recent Posts
Subscribe to Blog via Email
Search: