Quiet Time Conviction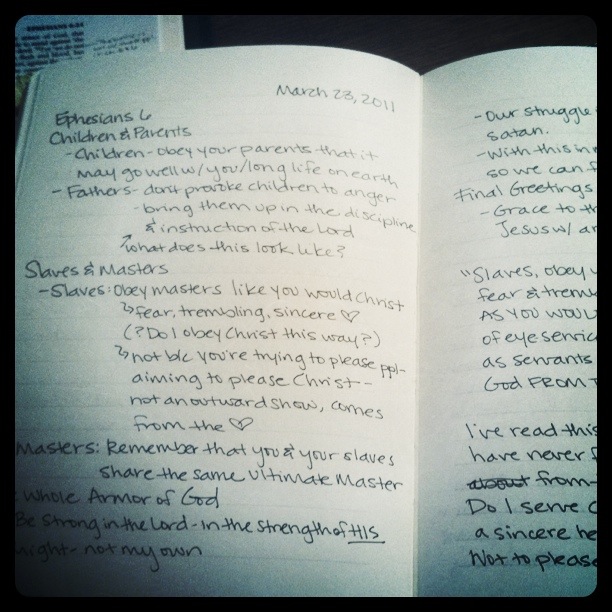 I was working through my 260 in 260 scripture today and was struck by Ephesians 6 in a new way.   It was especially startling because I am so familiar with this scripture.   It is one I teach at every Freshman 15 Retreat and seek to drive home it's truth to you, ladies. However, as the Holy Spirit amazingly does, the scripture jumped off the page and pierced my heart in a new way this morning and I just couldn't resist sharing. This blog post is just a simple journal entry exactly as I wrote it this morning. I felt compelled to share and my hope is you are challenged as I was.
Here is the scripture and the journal entry that followed:
"Slaves, obey your earthly masters with fear and trembling, with a sincere heart, AS YOU WOULD CHRIST, not by the way of eye service, as people-pleasers, but as servants of Christ, doing the will of God FROM THE HEART,…" Ephesians 6:5-6
I've read this scripture so many times and have never felt the conviction I felt today from the line, "as you would Christ."  Do I serve Christ this way?  With a sincere heart? With fear and trembling? Not to please others but from the heart?  I don't know.  I think a lot of times I serve Christ from duty, diligence and out of guilt.  I lack fear and trembling because I don't see Him rightly.  Instead of bowing in fear of His power and might-I casually address Him as buddy and friend.  I regrettably see Him as equal instead of Master.  My service to Him doesn't falter-not because of Him alone but because I fear man & want others to see my obedience to my Savior.
I believe that if I would see and serve Him rightly, my struggle with earthly masters would disappear.  But how can I serve them "as to the Lord" if I'm not serving the Lord as He requires?
Father, help me to see You in light of who You really are.  I bow my heart and bend my knees.  Humble my spirit and transform my heart.   Transform my desires so that I would seek to serve You from a right heart-with "love incorruptible" (Ephesians 6:24).
May God, by His power, transform our hearts to see Him rightly and therefore, serve Him rightly.  When we do, service to our earthly masters will easily follow.
For His glory,
You can follow any responses to this entry through the RSS 2.0 feed. Both comments and pings are currently closed.
Blogs Kate follows
Recent Posts
Subscribe to Blog via Email
Search: